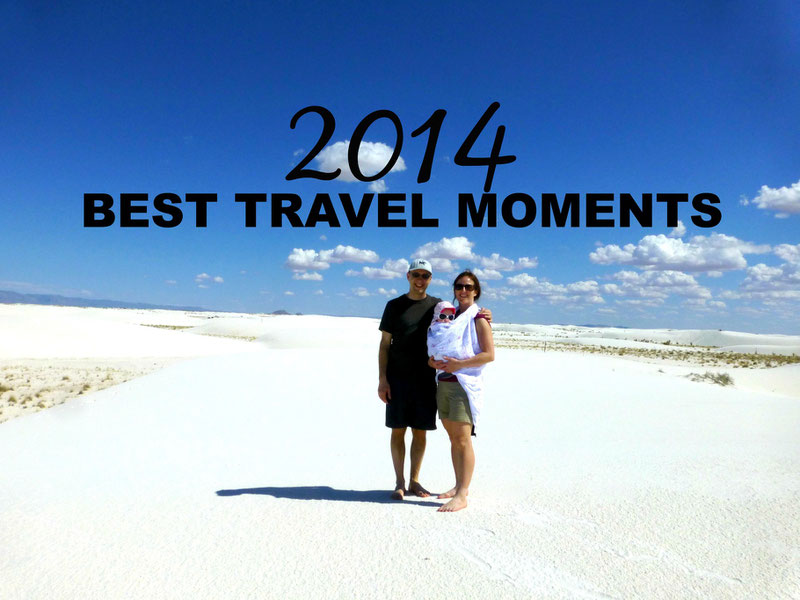 We spent the last half of December busy creating our budgets, brainstorming our next trips, and strategizing how to finish our next four travel guides. With 2015 now upon us, I felt it was important to take a moment and reflect on 2014. This past year was a great year, filled with some wonderful family trips. Of course, there were some rough moments and some very bad moments, but I recognize it wouldn't be life without them and we wouldn't learn any lessons without them.
Don't have time to read this right now? Pin it for later!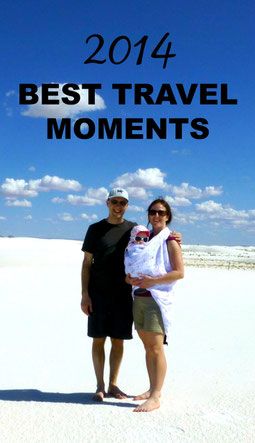 Travelling with an infant can be challenging at the best of times, but there is still something that makes it feel worthwhile. Reflecting back on the past year of travel, I realized that it wasn't so much what we saw that stood out in my mind but instead a collection of special moments. Here are my favourite travel moments from 2014: 
1. Family Time
Our first trip of the year took us to New Mexico to visit family. Admittedly, I knew very little about New Mexico as it had never really been on our radar. Not only did we get to spend time with family, we loved all the outdoor activities! Put those two together and you basically have my perfect day!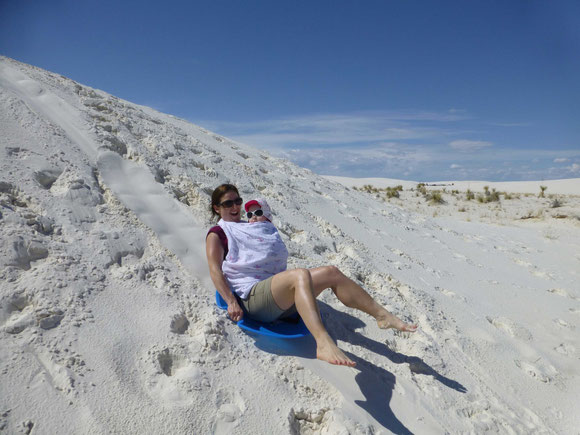 I think I'm having more fun that she is! 
2. A frustrating moment is a good lesson
A month later, we were on the road again to NYC. We both absolutely love NYC and were so excited to return. This was our first visit with our daughter and the third major trip with her. You know when you think to yourself, "no problem, we got this travel thing figured out"? Ha! This was the trip of learning some big lessons. I don't know if it was her age, her developmental stage, teething, the craziness of NYC or all the above, but something just didn't click on this trip. The picture below isn't great quality, but it's the memory behind it. We were having a very frustrating time trying to get our daughter to sleep on-the-go. This day, we thought we had it all planned out and had done everything right. She had other plans and refused to nap. This was the picture when I gave up and just took her out of her stroller. She looks so pleased with herself! I love her spirit, even when it frustrates me. This picture is a reminder of that spirit and that it is out of my control!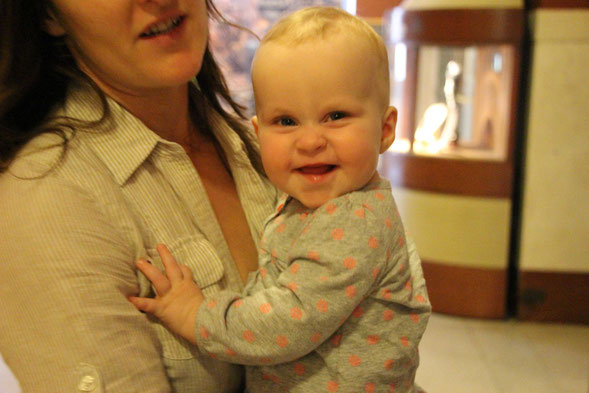 She's so proud of herself... Baby-1, Naps-0
3. Staying close to home
Summer in Canada is a wonderful time for a staycation. We always try to spend a full week in the mountains. We don't get to do as much outdoor activity as we once did. When we do it's no longer the difficult hikes we love. But we are still doing it. We are getting out when we can and getting our daughter out with us. This picture is really about making time for what we love. 
Can't beat the scenery around Banff, Canada
4. Getting away from the city in the city
Even when we are visiting a city, we always manage to find some type of outdoor activity to do. As much as we love to visit new cities, what we truly love is being outdoors. Between Central Park and the High Line Park in NYC, we had time to relax outside the hustle and bustle of the city. It allowed us to recharge and be prepared to take on the busy city streets!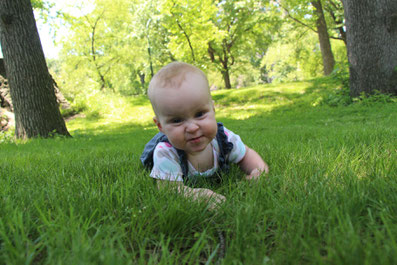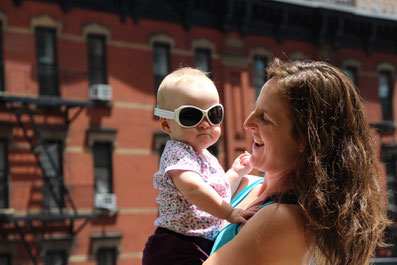 5. Slowing down
As much as we knew that travelling with an infant would slow us down, and it had on our Barcelona trip in 2013, we just really pushed it when we were in NYC. We realized this when we got home and made a pact to take some time each day to slow down on our next trip. We knew this would make for a more enjoyable trip for our daughter and therefore us too. We realized we wouldn't be able to see as much as we wanted, but the time together was more important. During our two week trip to London and Paris, we made sure to take time each day to let our daughter play. And you know, as much as seeing all the sights is a wonderful experience, I enjoyed the quieter and slow-paced family time even more! 
RELATED: 5 Paris Playgrounds Every Parent Should Know About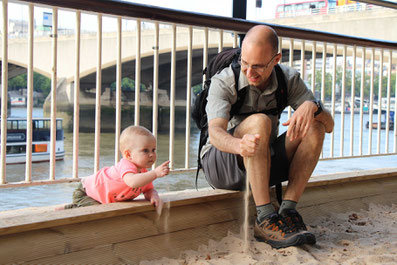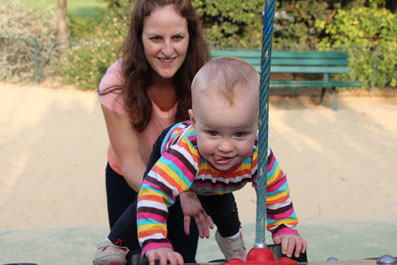 One could argue, why bother going so far away to do things we could do at home? Well, I don't get this view from the playgrounds at home!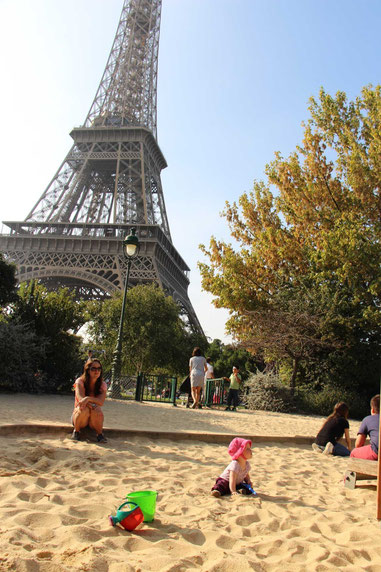 6. The people you meet
One of the other wonderful parts of travelling with an infant is the interaction you get with other people around you. Babies don't care who you are or what you do, if you make silly faces at them they will smile right back. From city to city, one of the best parts was watching our daughter make people smile, even the most unlikely characters. They just couldn't resist a smiley baby.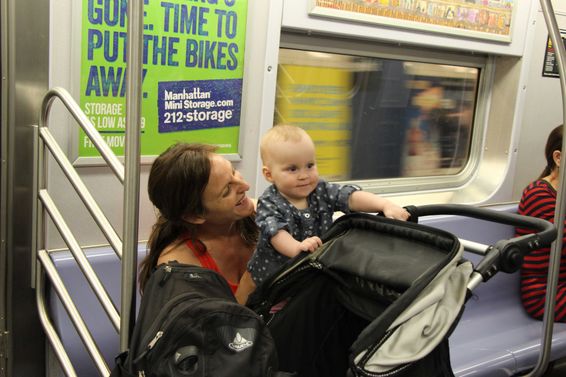 Our daughter loved riding the subway in NYC
One moment that sticks in my mind was during our visit to Sacre Coeur in Paris. There were no pictures allowed inside and we were constantly reminded to keep quiet as not to disturb the people praying. Of course, our daughter was too young to grasp this concept and had plenty to say while we did our walk around. Not only did she have plenty to say, but she decided she should say it loudly for all to hear. As I was trying to keep her from disrupting the entire building of people, a woman gently touched my arm and said "don't worry, children are God's angels and he loves to hear them". Her calm understanding and reassurance warmed my heart. Those are the types of people you get to meet while travelling with children…It makes it even more worthwhile!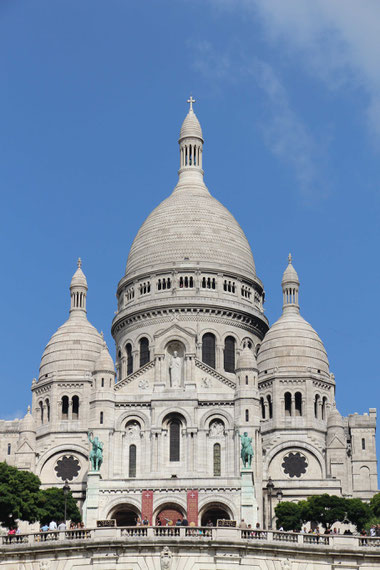 7. Finish the year with more family time
We ended the year with another trip to visit family and celebrate an early Christmas. There was very little snow, but we found a way to enjoy it anyways. It was a wonderful feeling to see our daughter enjoying playing outside even on a cold winter day. And this face says it all…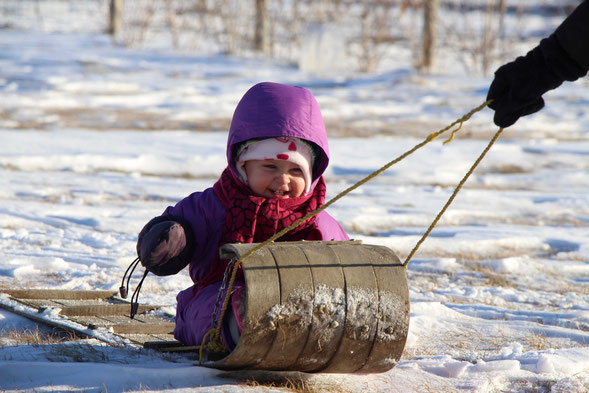 Our little daredevil having so much fun!
Reflecting back on our year of travel with our daughter, I can sum it up in on sentence and a picture:
It is not always easy, but it is always worth it!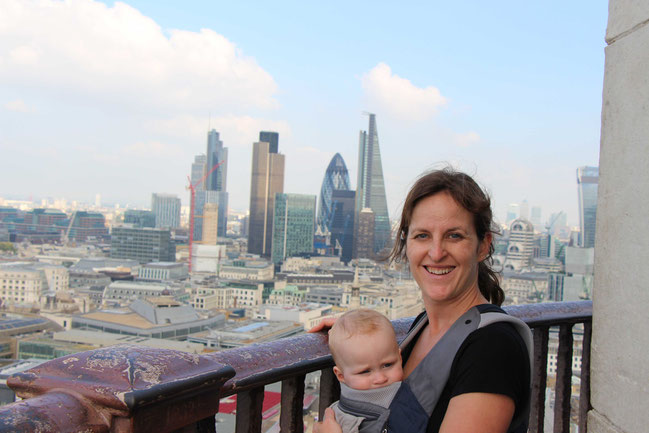 528 steps up carrying a baby at St Paul's Cathedral in London wasn't easy, but it sure was worth it! 
We want to start the new year by saying a big "Thanks" to all of you for following along with our journey in 2014. We would love to hear about your favourite travel moments of 2014.
If you are looking to take your first trip with your little one, please let us help you make it the best trip possible! Send us an email with any questions you might have or check out our travel guides.
Related articles you might enjoy: 
---
---
Share your favourite travel moments: