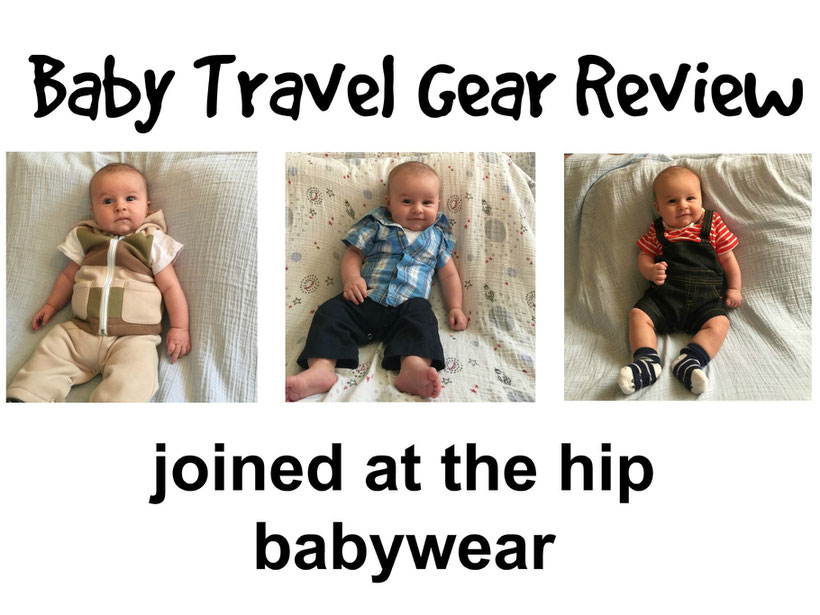 I first learned about Joined at the Hip Babywear (JATH) in our community newsletter. I recall seeing the ad and thinking it was a great idea! My initial thought was that the outfits created by JATH would be perfect for travelling parents, but at the time, we didn't have any travel plans.
Months later, with that idea still tucked away in the back of my head, I started to see JATH pop up in my Facebook feed. I wanted to test them out, so when our son finally arrived and we had our first trip planned, I contacted Miranda (owner at JATH).
Miranda's story is much like ours. She saw an opportunity to make the lives of busy parents easier and took action! 
Don't have time to read this right now? Pin it for later!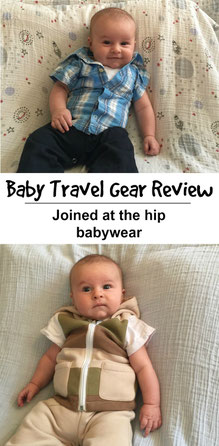 So what's the big deal about Joined at the Hip Babywear? It's all about saving time! The outfits are all one piece but they are made to look like separates. Brilliant! I can speak from experience that in normal outfits, that third piece doesn't get used very often. I've purchased many little outfits that came with a little fleece vest or hoodie. I always found that I left off that top piece and when I did put it on it rode up around my baby's face.
I believed these outfits would be great for travel. Travelling with babies means a slower pace of travel, so we look for any opportunity to save time in getting ready and out the door. 
How did they Pan out?
We left a chilly Canada behind in search of some warm days in Sedona, Arizona for a week this November. At the time our son was two months old, so we took along three outfits all in the size 0-3 months. We expected the weather to be chilly in the morning and warm up in the afternoon. 
Some details:

100% cotton and machine washable.



Currently, the best place to buy them is online.


Shipping is a flat rate of $5.99 CDN until the end of the year.




Unfortunately, at this moment JATH only ships within Canada.



What i liked:
These outfits are so adorable! I loved all three of them!




They made packing much easier. I didn't have to plan outfits in advance.




It was so easy choosing outfits in the morning to get baby dressed. My husband usually leaves picking out clothes for me; not necessary with these outfits!




The obvious benefit - you don't have to deal with putting on three articles of clothing



What I'd Change:
 

The neck hole was tight on both the Quin and Niko. Miranda had previously mentioned that the holes would be made bigger, so this shouldn't be an issue going forward.




The Niko is so cozy, I would have liked a version with long sleeves to avoid needing another jacket over top for cooler days.




 

Our son was 2 months old and approximately 12lbs during this trip. I found that one of the outfits (Rider) fit him perfectly. The Quin and Niko outfits were a bit tight on him and due to the fabric being less stretchy, it made it difficult to get them on and off him. Since our son was outgrowing most of his 0-3 month clothes, we would have been better off going with the 3-6 month size.



Final Verdict:
 

The one downside I see is that the entire outfit needs to be washed if there is a poop explosion without being able to reuse either the shirt or pants. That being said, when it comes to my babies a poop explosion gets through the onesie and onto the pants anyways... Further to that, the entire outfit needs to come off if it gets dirty or wet. This could be a problem if out hiking and it's chilly. You don't want baby to get fully naked in the cold.




 

I wouldn't change the existing color or fabric choices, but I can certainly imagine so many additional possibilities. For winter in Canada, a warm fleece outfit with a long sleeve undershirt would be perfect!




My initial assumption was correct. These are great for travelling - grab 3-4 outfits and you are done for the week (assuming you are doing laundry half-way through). The girl versions even come with tights!



(Note: These outfits were provided to me by Joined at the Hip Baby Wear. All thoughts and opinions are my own.)
---
---
Are there any other products you could recommend to make the lives of busy parents easier?