We only write about destinations we have personally visited with our family. This post contains affiliate links. A portion of the proceeds will be donated to UNICEF.
Traveling with a baby means getting from the airport to your hotel is a little more complicated. It's no longer just about cost and convenience, now you need to think about car seats too.
We like to pack light and avoid bringing car seats on our trips, especially if we won't have any use for the car seat once we are at our hotel. If the city we are visiting has good public transportation that can get us from the airport to our hotel in a reasonable amount of time, that is usually the option we will choose.
So what are your options in Barcelona to get from the El Prat airport to your hotel? Here are your choices listed from most convenient to least convenient:
PRIVATE TRANSFER
Private transfers are the most convenient method of getting straight from the airport to your hotel. Instead of getting into a taxi line, your personal driver will greet you with your family name on a sign at the arrival gate. Private transfers need to be booked in advance and will generally cost you a flat fee. The personal service and convenience of a private transfer tends to cost a bit more than a metered taxi. 
Welcome is an airport transfer service in Barcelona which provides airport transfers to city center starting at €35 per trip. Welcome is baby-friendly and offers complimentary infant car seats if requested at time of your reservation. In addition to your airport transfer, Welcome simplifies your trip planning by offering essential products (such as local SIM-cards or mobile hot spots) and experiences (such as tours, day trips, restaurant suggestions, etc).
SHARED VAN
This service entails a passenger van waiting at the airport until it has collected enough passengers to fill the seats. The driver will then drop everyone at their hotels in the most efficient way possible. This is the only non-taxi option where you get dropped off at the door of your hotel. The cost of this option typically falls between a dedicated bus route and public transportation. How long it takes is a bit of an unknown, as you don't know how long you have to wait at the airport before the van is full and you also do not know if you will be dropped off first, last or in the middle. One caution with this option, given you will be travelling in a passenger vehicle (albeit a large passenger van) you should inquire ahead of time about car seat rules.  
The following operators offer services from the Barcelona El-Prat Airport:
Suntransfers.com:  Prices start at approximately €9.50 per person. Babies travel free, but car seats are not available for rent, nor can you bring your own.
Shuttle Direct: Prices start at approximately €11 per person. Babies must pay for their own seat. If you wish to use a baby seat, you must bring your own.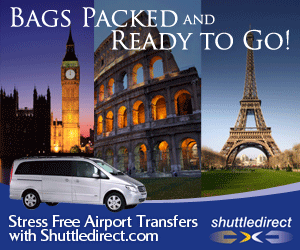 THE AEROBUS
The Aerobus is a convenient and affordable alternative to travel from the airport to the city center in 35 minutes. These specially designed buses have a section for luggage as well as a seating area.
You can buy your ticket three ways:
with a credit card at the machines inside the terminals
using cash as you board the bus at the airport bus stop
It costs €5.90 per person one way and a return ticket costs €10.20. The return ticket is only valid up to 15 days and you must keep the ticket. Public transport tickets do not work as the Aerobus is privately operated and not part of the public transportation system.
Visit their website to buy tickets or for more information on fares, routes and timetables. They even have free WiFi on the bus. Children under 4 are free. 
AIRPORT TRAIN
The RENFE Airport Train also costs €2.15 for a single ride and you can use the Barcelona Card and T10 Transport tickets for it. Children under 4 are free. The train is a good option if you don't have much luggage.
To catch the RENFE train to the city center you have to go to the train station at Terminal 2. If you arrive at Terminal 1, you will need to catch a free shuttle bus to Terminal 2. Once at Terminal 2 follow the signs for RENFE and cross an overhead walkway. Trains run every 30 minutes from 06:00 to 23:30 and will take 25 minutes. The stops for this train are Sants Station, Passeig de Gràcia and El Clot. Passeig de Gràcia will be the most central stop to the city center.  It is a ten minute walk from Plaça de Catalunya.
If you have a stroller or a lot of luggage be aware that there are stairs at the station, so you may need help getting up and down them. Also, as with everything you do at the airport, keep an eye on your belongings as pickpockets may be around. If you'd like some tips on being less of a target, see our post here.
TMB BUS
Transports Metropolitans de Barcelona (TMB), Barcelona's public transportation service, offers cheaper bus options from the airport to the city centre. The TMB buses cost €2.15 for a single ride, with children under 4 are free. The trade-off is that it will take longer than the Aerobus and will have limited room for luggage. Buses run every 25 minutes and can take 40-60 minutes depending on the time of day. 
If you plan on taking public transport while in Barcelona, consider the Barcelona Card. It comes with unlimited free public transport and free or discounted admission to 20 top Barcelona attractions. 
Your TMB options are:
• From 05:00 to 00:15:  the No. 46 bus runs from the airport to Plaça Espanya.
• From 21:55 to 04:45:  the N17 (from Terminal 1) and N16 (from Terminal 2) run from the airport to Plaça de Catalunya. 
TAXI
Taking a taxi is normally easy – simply show up at the airport, get in line and grab a cab. This isn't the case when you have a baby. The downside is that a licenced taxi cannot be pre-booked, so you can't be guaranteed that you'll get one with a car seat. The total cost for a taxi could be as high as €30-60 when you include surcharges for airport pickup and for each piece of luggage.   
BARCELONA WITH A BABY RESOURCES
If you are still in the planning stages of your trip to Barcelona, our Ultimate Barcelona Trip Planning Resourcehas links to everything you will need, see and do in Barcelona.
Pin It For Later!