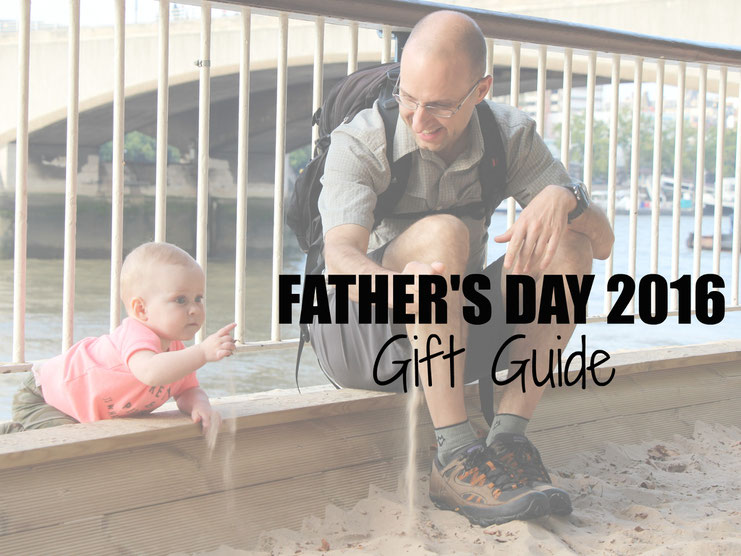 Happy Father's Day!
Here is our 2016 Father's Day Gift Guide for the dads who love to travel: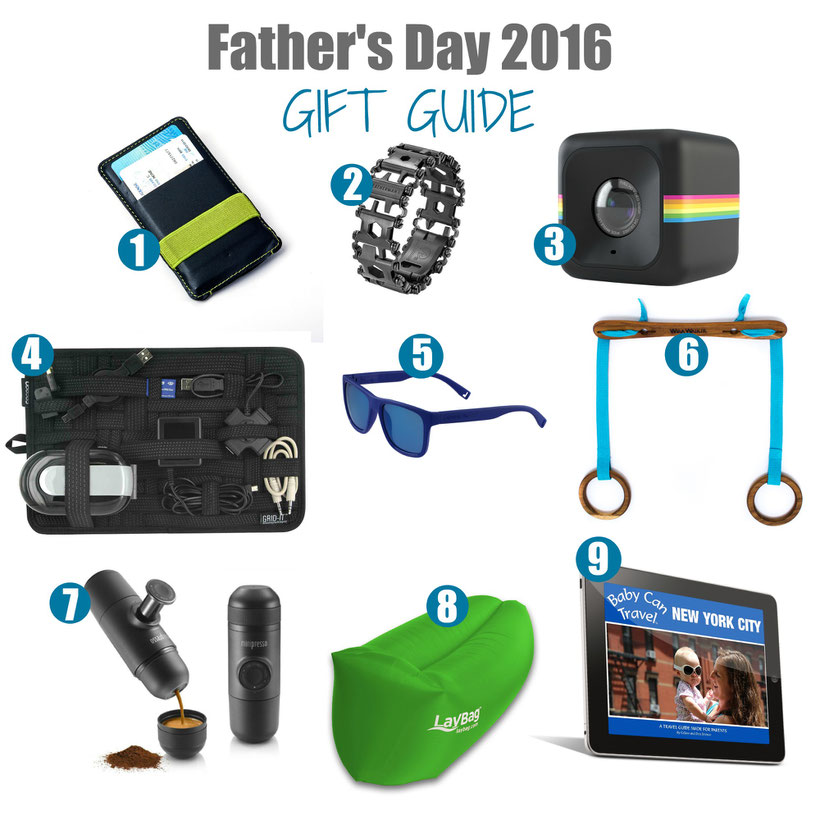 Note: This posts contains affiliate links(*). What this means to you is that if you shop through these links, at no additional charge to you, we will receive a small commission from the seller. 
The slim battery sewn into this wallet can give your iphone almost 2 full charges, in addition to holding 3 cards and an elastic band for bills. Imagine yourself on the plane, your toddler is watching a video on your phone and his eyelids are starting to close. Then you notice the battery indicator turn red… What now? Haha, you are well prepared!
The functionality of a Leatherman tool on your wrist! This is a great way to still travel with your Leatherman, but keep your pocket space for paci's and other baby stuff! I've seen comments about getting right through airport security with it, but I would not attempt it.
Their caption says it best "capture life's action wherever and whenever it happens"! And you just don't know when it will happen when travelling with kids!
Travelling with babies/kids needs preparation and organization! We seem to travel with so many devices and charging equipment these days. Besides, I think this would be a lovely replacement for the ziplock bag that usually contains all our cords!
Yes! Babies are grabby and they always go for the glasses. I can just see those sunglasses getting thrown in the water…
6. Willa Walker
It's so exciting when your baby starts to walk, but it's also painful on your back! This little device is ingenious. I love it for travel because you could be giving your baby exercise while strolling through a museum or park. Perfect!
We love, love, love our coffee. Travelling with a baby can mean not getting out of your apartment or hotel as early as you would like. Who wants to wait all morning for a coffee? Or maybe you want to give your baby some time to crawl around before heading out for the day? Relax and enjoy a coffee with this compact espresso maker!
8. Laybag
I'm not sure I would haul this on a trip, but I bet any dad would love this!
Our guides are the only ones out there of their kind. We focus specifically on the destination and everything you need to know about travelling there with your baby. 
---
---
---
What's the best travel gift you've received?