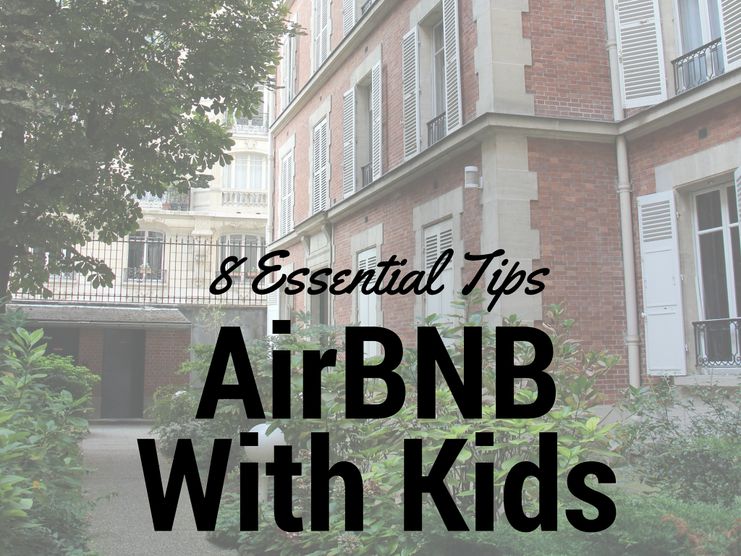 Before having kids, we never really considered renting an apartment or entire home while travelling. We would find the best hotel, in the best location within our budget, with the intention of spending very little time in our room. Then we had a baby…
Our first trip to Barcelona, when our daughter was 3 months, still worked very well in a hotel room. She was still in that phase of just sleeping wherever and whenever she needed to. We took her out for late dinners, then she went to bed around the same time we did. Our second trip with her to New Mexico when she was 10 months old was a little different. We were visiting family in a small town, so our choices of places to stay were limited. Even though she was going to bed around 7pm, we were able to sit outside our room and visit while she slept. Shortly thereafter, we went to NYC with her. Again, we stayed in a hotel room. If you've been to NYC, you know the rooms there are SMALL. That was the tipping point for us. After having to manage naps and early bedtimes in that room, we decided it was time for a change. 
Our next trip, when our daughter was 14 months old, took us to London and Paris. It was our first time giving AirBNB a try, but was it ever worth it! In each place, we were able to find an apartment that had a separate bedroom and a door on the main living space. That meant we were able to set up the Pack n' Play for our daughter in the main living space and not have to spend the evening in the dark for fear of waking her. 
We went to a resort in Mexico when she was 18 months old and I was pregnant with our son. Having to be back sharing a room was a challenge for us and it solidified our decision to rent bigger places when we travel, at least for the next few years. Since that trip, we have also rented a condo in Sedona, apartments in Tokyo and Kyoto and houses in Phoenix and in San Diego for our family of four. 
We have been really impressed with the places we have stayed in. More importantly, it has been so much more functional for family travel. When travelling with a baby or young children, the idea of eating out for three meals a day is not appealing. Not only are the little ones up super early, but they take so long to eat. By renting our own place with a kitchen, we are able to feed them breakfast and get organized for the day while they eat. It also allows us to keep enough food and snacks around (minimizing the number of times we need to hit a grocery store). With early bedtimes, we will often self-cater dinner as well, for them… Since we still like to eat out while travelling, we like to take advantage of their early bedtimes by feeding them and getting them down, then getting some take-away. That way we also get to sit down and enjoy a meal together. We've also done this at lunch time when they need naps. It's a great use of time, since we need to stop and eat anyways… 
There are also the obvious benefits of having more space for sleeping, play and stuff, because let's face it, kids take up space! We also enjoy staying in more "residential" neighborhoods to get a more local feel. 
---
---
Here are our tips for finding an apartment rental for your next trip: 
1. KNOW YOUR BUDGET AND DESIRED LOCATION
Before you begin looking, know what you are looking for. You will be able to filter on price and zoom into a map to see properties that meet your criteria. See our post on Finding the Best Hotel For Your Family in 5 Easy Steps (all the steps apply to vacation rentals as well).
2. LOOK AT MULTIPLE SITES
We found there to be more (better?) options on VRBO when we travelled to Sedona and San Diego, but AirBNB was the clear winner for London, Paris and Japan (our upcoming trip).  Another site worth checking out is HomeAway (owned by Expedia).
Don't have time to read this right now? Pin it for later!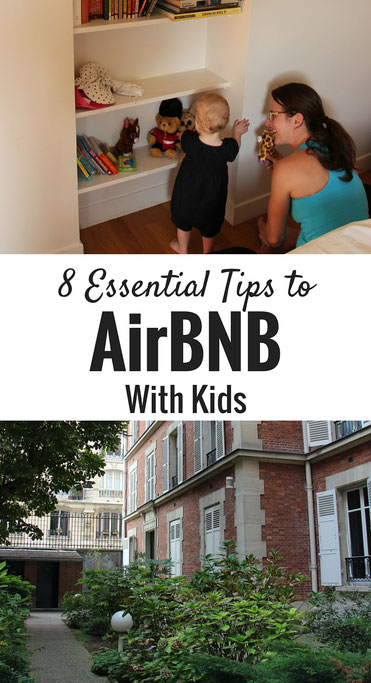 3. TAKE THE TIME TO REVIEW THE PICTURES IN DETAIL
We look for places that are uncluttered (i.e. limited décor items within arm's reach of the little ones and not a lot of access to cords around TVs, etc). We also look for potential dangers like stairs or glass coffee tables.
4. IS THE LISTING PET FRIENDLY
If you have any pet allergies in your family, you may want to avoid these. I have allergies to cats and to a lesser degree, dogs. I have stayed in hotels that allow pets, and despite their cleaning efforts, I usually can't breathe within an hour or two…
5. DO A COUNT OF THE BEDROOMS
As you review the pictures, do a count of the bedrooms and consider where your toddler or baby will sleep. In our experience, a two bedroom apartment is not always two bedrooms. Often it will be included as a two bedroom if there is one separate bedroom and the main living space can be converted to a bedroom.
6. READ THE REVIEWS THOROUGHLY
We like to make sure there are no comments about it being noisy, dirty, near a nightclub or near a train (for example). We also like when we find comments from other families that have stayed there. 
7. KNOW WHAT YOU ARE PAYING FOR
When we do a search, we enter four guests. Some places charge extra depending on the number of guests. However, they may give a discount or not charge extra for children. If you are unsure, contact the host to clarify.
8. CONTACT THE HOST
Upon arrival, we usually do childproofing like moving breakable items and even putting in plug protectors.
Come join our growing Facebook group of Family Travellers. We are parents who share our experiences and get answers to our Family Travel related questions. Join here. 

---
RELATED ARTICLES YOU MIGHT ENJOY:
---
Planning a trip? Our travel guides include all the information you need to make your trip with your baby the most enjoyable!
---
We'd love to hear your experience using AirBNB or VRBO! Do you have any additional tips?