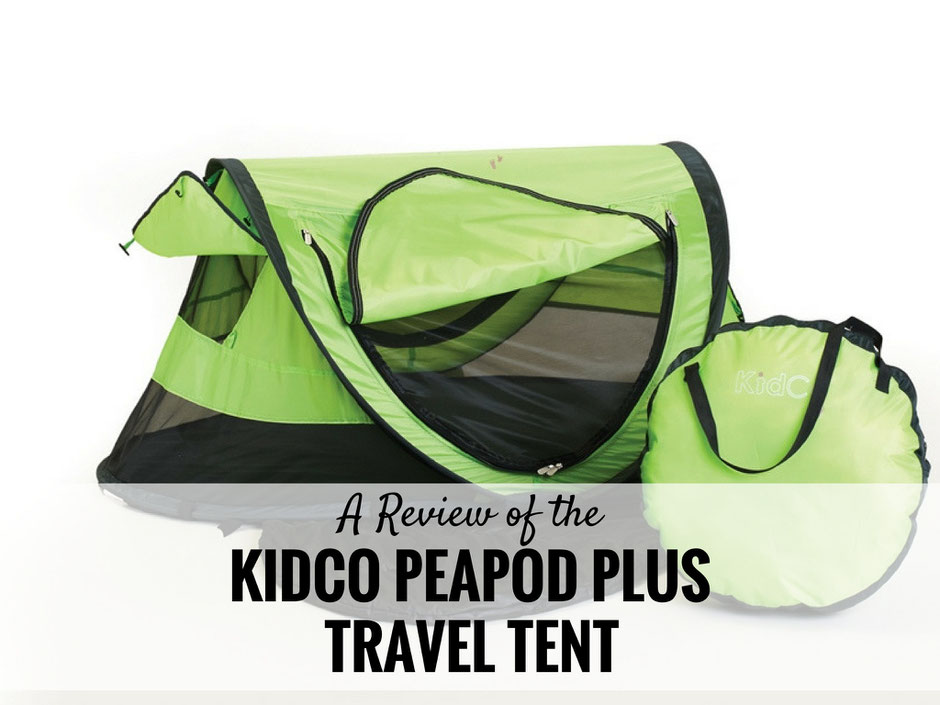 This post contains affiliate links. At no additional cost to you, we will receive a small commission if you shop through these links.
Where your baby is going to sleep is one of the most important considerations when booking your accommodations. You want your baby to get the best sleep possible and there are several options available to help make this happen.  One product that we've used on our most recent trips was the KidCo PeaPod Plus tent. 
We initially tried the PeaPod on our trip to Tokyo and Kyoto. Typically when planning a trip, we would either request a travel cot from our hotel or Airbnb hosts and if that wasn't an option we would contact a local baby equipment rental company. As we were booking our Airbnb apartments in both Tokyo and Kyoto, we were struggling to find any that had travel cots available. We also researched renting one and could not find any baby equipment rental companies (if you know of any, please let us know!). At that point, one of our good friends offered to lend us her PeaPod Plus.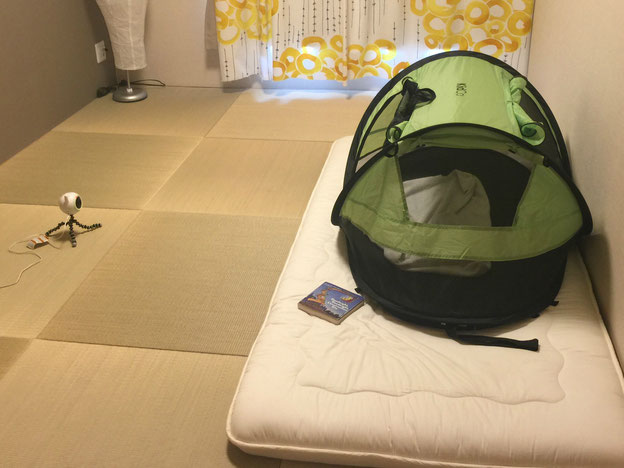 Our style of travelling is to travel as light as possible and often we take public transportation instead of a taxi or renting a car. For these reasons, we have never purchased a travel cot and try to travel without one. Given that the PeaPod Plus fit in our suitcase and wasn't going to be an additional piece we had to carry, we were happy to give it a try.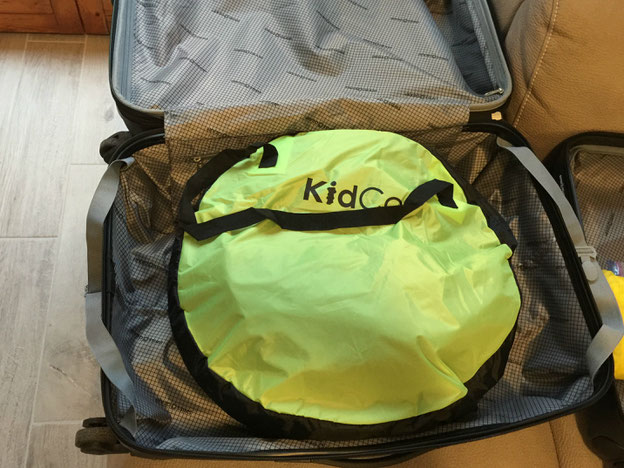 After a recommendation from one of the members of our Facebook Group, we did a few trial runs at home early enough to know that it would work on our trip. 
We were so pleased with it, that we decided we wanted to use one for our month in Italy as well. We had planned on staying at 5 different apartments, many of which did not offer a travel cot. We also didn't want the hassle of renting a new travel cot each week. We had hoped that the frequent moves would have the least impact on our little guy if we kept his bedtime routine and sleeping situation as consistent as possible and that the PeaPod Plus would provide this consistency.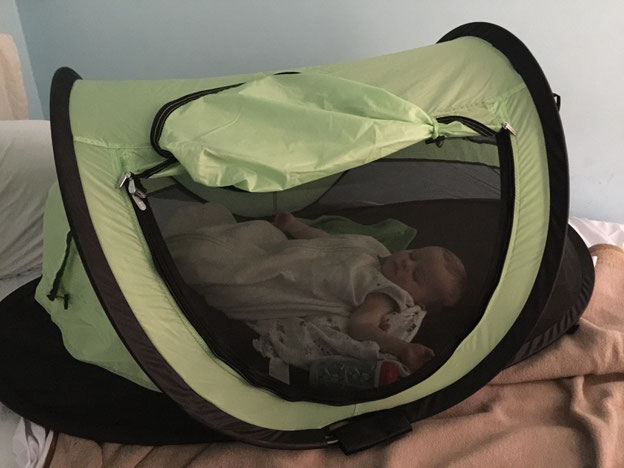 Product Details
The KidCo PeaPod and PeaPod Plus are collapsible tents that fold up into a circle with a diameter of approximately 16.5 inches (PeaPod) and 19 inches (PeaPod Plus). Either can be used starting at the age of 1 years old, but the PeaPod Plus can be used up to 5 years old where the PeaPod can only be used up to 3 years old. 
They are both made of lightweight mesh and weigh only 2.45lbs (PeaPod) and 3.65lbs (PeaPod Plus). On all four sides of the PeaPod the flaps fold up to allow for air flow but can still act as an insect screen.
Precautions: The sleeping pad should remain attached by the snaps under the floor of the tent only and should never be put inside. KidCo further states that you should never add pillow, comforter or another mattress for padding.
Getting Your Baby to Sleep In The PeaPod
We recommend doing a few practice runs with your PeaPod tent prior to leaving on your trip. For us, the easiest way was to place the tent inside of the crib. On the first day, we put the tent in the living room and allowed the kids to play in it, so our toddler would see it as something fun.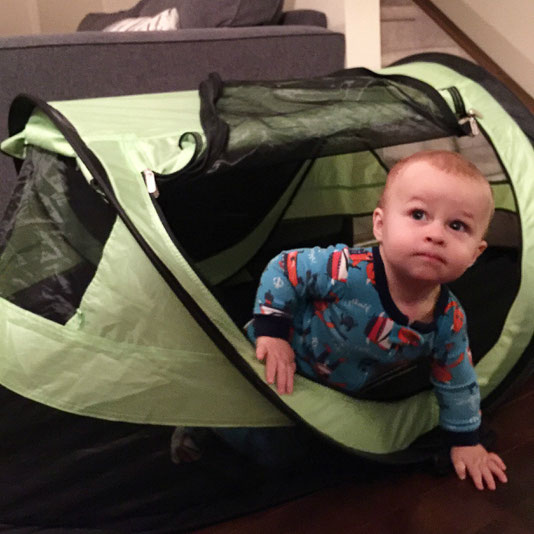 The following day, we started getting him used to sleeping in it by doing it for his nap, just in case things didn't go well. After doing naps a few days in a row, we tried a night sleep. We always made it sound exciting before putting him to sleep in it – "Are you excited about sleeping in your tent??" or "Here we go, you get to sleep in your tent again!".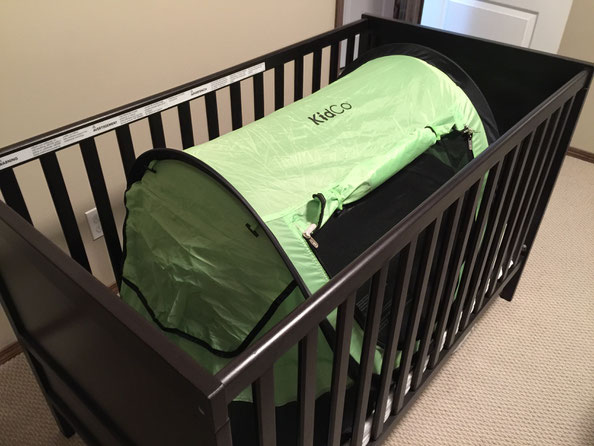 Before our trip to Italy, we had our son sleeping in it for all his naps and night sleeps for two entire weeks. This gave us confidence that he would be comfortable in it throughout our trip. 
What We Loved About The PeaPod
We own a S-M-L suitcase set.  It fits in both our medium and large suitcases.  Alternatively, you could bring it as a carry-on.

It's easy to fold and pack.

The PeaPod Plus is super lightweight at 3.65 lbs. By comparison, travel cribs can weigh around 7-13 lbs.

It fits kids from 1 to 5 years old, so our son can use it for quite some time.

The cost of the PeaPod Plus is only $66 US compared to $200+ US for some travel cribs.

There are flaps that can be lifted for air flow to keep baby cooler.

One of the flaps could be left down to prevent baby from seeing parents in room or another sibling.

Our little guy was not able to open the zipper, so we knew he couldn't escape and didn't have to worry about him trying to climb out of a travel cot.

Great for both indoors and outdoors.
No Product Is Perfect...
At times I worried that he might be a bit warm in the tent, but we resolved this by using a fan or turning up the air conditioner.


After some time, your toddler may figure out how to open the zipper. We reduced the risk by trying to stop him from playing with the zippers.  We also learned to close the zippers such that all the zipper pulls were on the outside of the tent.


I would prefer if there was a soft sheet inside (attached by Velcro?) as the base of the tent feels like it would cause him to sweat. I tried to put a blanket down as a sheet but he moved around too much.


The attached sleeping pad is great, but the tent directly on a tile floor (which we found in many of our Italian apartments) would make for a very hard sleeping surface. In Japan, the futon mattresses were perfect to put the PeaPod on. In Italy, we folded up extra blankets and put them under the PeaPod. CAUTION: Infants can suffocate in gaps between extra padding and on soft bedding. Use only the sleeping pad provided by the manufacturer. NEVER add a pillow, comforter, or another mattress for padding.
In summary
Ever since our Japan and Italy trips, the PeaPod Plus has become an indispensable part of our travel gear, in fact, we have named it one of our 8 Must Have baby travel items.  Since then we have used it for 23 nights in Norway, 28 nights in Mexico, as well as several visits to the grandparents. Our son sleeps well in it and we sleep well knowing he is well contained and safe.
Note: We were sent the PeaPod Plus tent by KidCo but all opinions are our own.
PIN IT FOR LATER!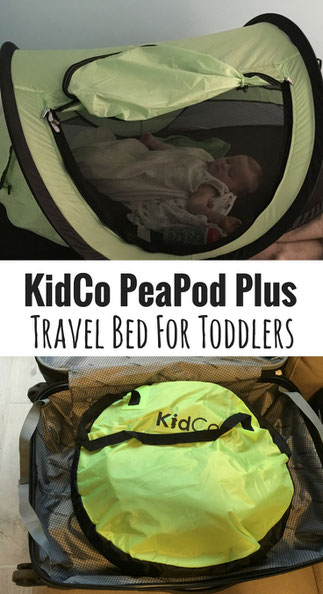 Help us bring you more great content by sharing this page!
STill Have Questions?