We only write about destinations we have personally visited with our family. This post contains affiliate links. A portion of the proceeds will be donated to UNICEF.
One of the trickiest parts of planning a trip with a baby is figuring out how to get around while you are there. Luckily, once you are in central Rome, it's easy to get around as it is very walkable and has reasonably good public transportation. But the Leonardo da Vinci Fiumicino Airport (FCO) is way outside Rome (map). How do you get from there to the city?
You are likely wondering whether you should bring your car seat with you. We wouldn't… Odds are that you won't be renting a car in Rome, so do you really want to drag it all the way there just for a taxi ride to and from the airport? Do you want to risk having the airline damage your car seat? Plus, hotel rooms are very small in Rome so your car seat will just get in the way.
Thankfully, you can leave your car seat at home as there are many easy alternative ways to get transportation to central Rome without needing a car seat. Here are your choices starting with the most convenient:
Private Transfer in Rome
Private transfers are the most convenient method of getting straight from the Fiumicino Airport to your hotel. Instead of getting into a taxi line, your personal driver will greet you with your family name on a sign at the arrival gate. Private transfers need to be booked in advance and will generally cost you a flat fee. The personal service and convenience of a private transfer tends to cost a bit more than a metered taxi.
Welcome is an airport private transfer service in Rome which provides airport transfers from Fiumicino to city center starting at €48 per trip. Welcome is baby-friendly and offers complimentary infant car seats if requested at time of your reservation. In addition to your airport transfer, Welcome simplifies your trip planning by offering essential products (such as local SIM-cards or mobile hot spots) and experiences (such as tours, day trips, restaurant suggestions, etc).
Express Train in Rome
The Leonardo Express provides train service from FCO to the Roma Termini. This trip takes approximately 30 mins and tickets starting at €14 per person. Children under 4 travel for free without a reserved seat.
The Roma Termini is centrally located and from here you can walk, take the metro or the bus or risk a shorter taxi ride without a car seat (which we strongly recommend not doing – why take the risk?). 
Airport Bus in Rome
The Terravision bus also travels from the Fiumicino airport to the Roma Termini. At €5 per person, it is your cheapest option to get to central Rome , but it is also the longest option taking approximately an hour. Children under 4 travel for free. If you have the extra time, this option is a fraction of the cost of a private transfer.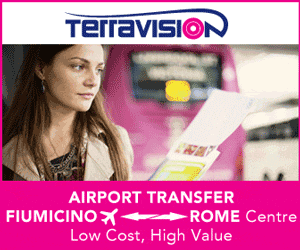 Shared Van Service in Rome
A shared van service entails a passenger van waiting at the airport until it has collected enough passengers to fill the seats. The driver will then drop everyone at their hotels in the most efficient way possible. This is the only non-taxi option where you get dropped off at the door of your hotel (or a nearby stopping place). How long this takes is a bit of an unknown, as you don't know how long you have to wait at the airport before the van is full and you also do not know if you will be dropped off first, last or in the middle.
Shuttle Direct offers this service for €11.50 per person. Note that babies are not free and car seats are not available. Given a family of three costs €34.50, I'd splurge and spend the extra €11.50 on the safety and convenience of a private transfer.
Taking a Taxi from the Airport in Rome
Taking a taxi is normally easy – simply show up at the airport, get in line and grab a cab. This isn't the case when you have a baby. The downside is that a licenced taxi cannot be pre-booked, so you can't be guaranteed that you'll get one with a car seat. The total cost for a taxi to central Rome is currently a fixed rate of €48.   
Our Experience Getting from the Airport in Rome
For our trip to Rome, we ended up taking the airport bus to the Roma Termini, followed by a public bus to our apartment. We chose this option as our flight arrived well before our check-in time at our central Rome Airbnb apartment, so we were not in a rush. Had we been able to check in right away, we'd likely have opted for the convenience of a private transfer.
Pin It For Later!