Babies are awesome little beach bums. You just plunk them down on the sand and give them a shovel, and they'll sit there happily for hours. Your baby will love any sandy beach, but there are a two beaches around Playa Del Carmen which are beautiful, relatively undiscovered and especially nice for babies.
Xpu-Ha Beach
Xpu-ha is the nicest beach we've discovered during all of our visits to Mexico.  Located approximately 35 minutes south of Playa Del Carmen, this beach is secluded and not very busy. There is only one major resort on this beach, with a few other boutique hotels, allowing large stretches of beach to be unoccupied.
The beach is very clean and the water is shallow. When the sun shines, the brilliant turquoise color of the water will simply blow your mind. The waves here are typically quite gentle, probably because it is protected by a point jutting out into the ocean at the north end of the beach. This beach is perfect for babies and young toddlers who might want to venture into the water a little! 
There isn't much in the way of services on the beach, just a bar and some equipment rental shops, so make sure to bring enough food and supplies for the outing.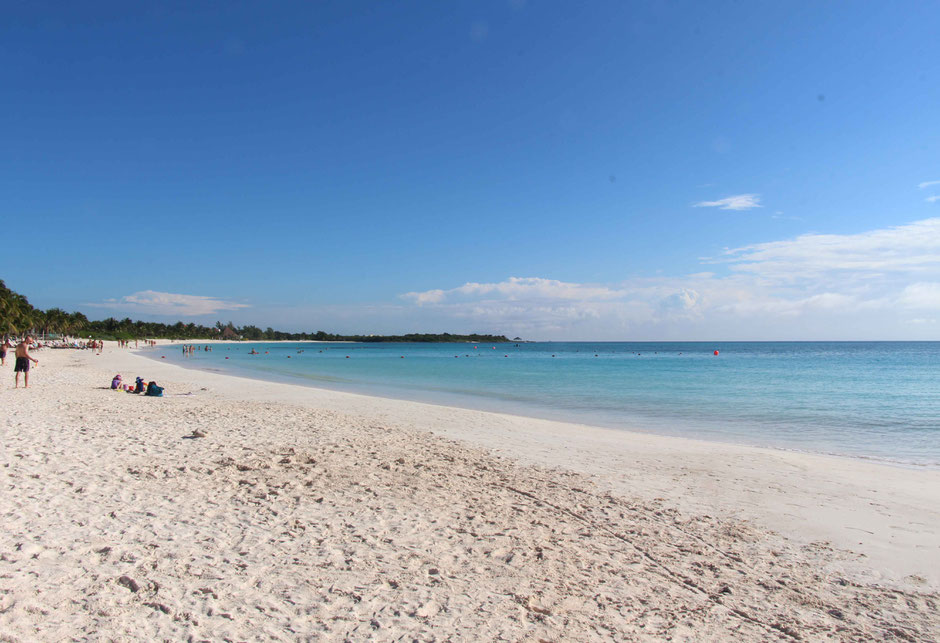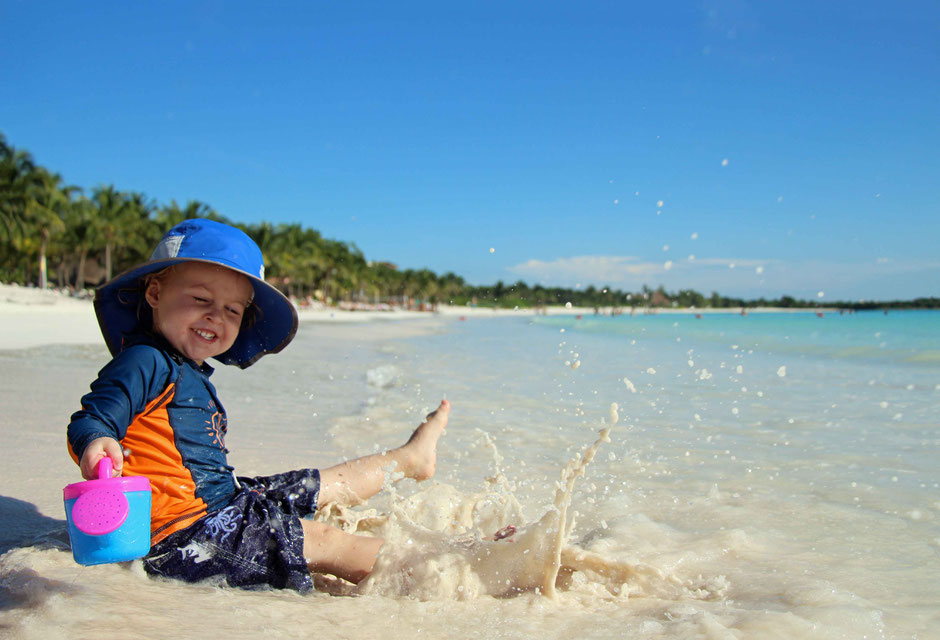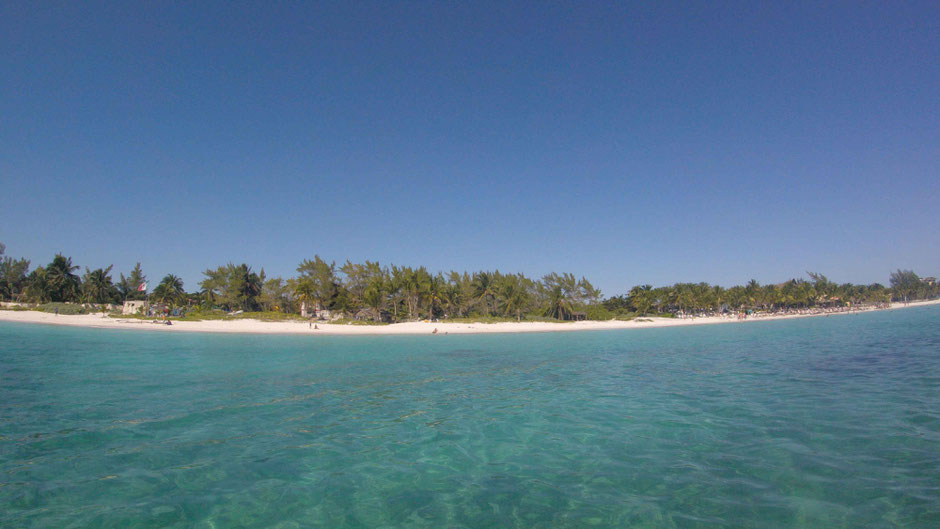 Getting there: As with all beaches in Mexico, Xpu-ha is open to public. If you are not staying at a resort on the beach, you will need to use one of the access roads. Each of these roads charge an access fee. 
Here is the location of the beach on Google Maps - just plug in your starting point to get directions. Watch for this sign to our favorite access road, which was the most affordable at 30 pesos (~$2usd)  per adult (kids are free).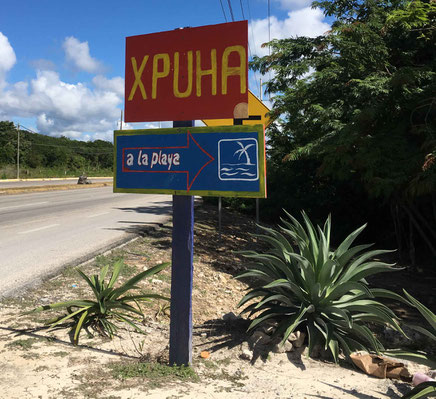 Punta Esmerelda Beach
Located in the north end of Playa Del Carmen is a "locals" beach called Punta Esmerelda. This beach is partially protected from the open ocean, hidden nicely behind a point jutting out in the ocean, which helps make the waves quite small as they come to shore. The ocean take a long time to get deep, which means your baby can get into the water quite easily.
What makes this beach special and unique is the cenote in the middle of the sandy beach. The cenote is a small shallow lagoon fed by fresh water you can actually see bubbling to the surface. The water eventually flows into a small stream snaking around a sand peninsula into the ocean. The cenote and stream are both shallow enough to enable your baby to splash around in the edge of the lagoon. The current in the stream is noticeable, so be careful when the kids are in there. What makes this especially great for babies is there are no waves in the cenote lagoon, making it like a little freshwater wading pool.
There is also a small playground with several slides which a baby will find fun if they need a break from playing in the sand or water.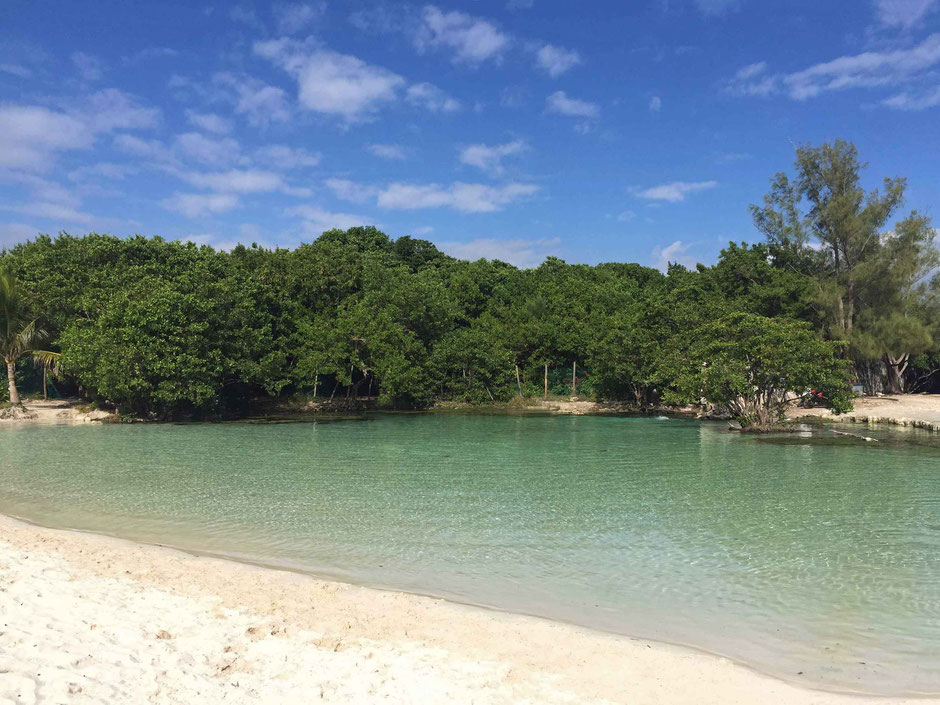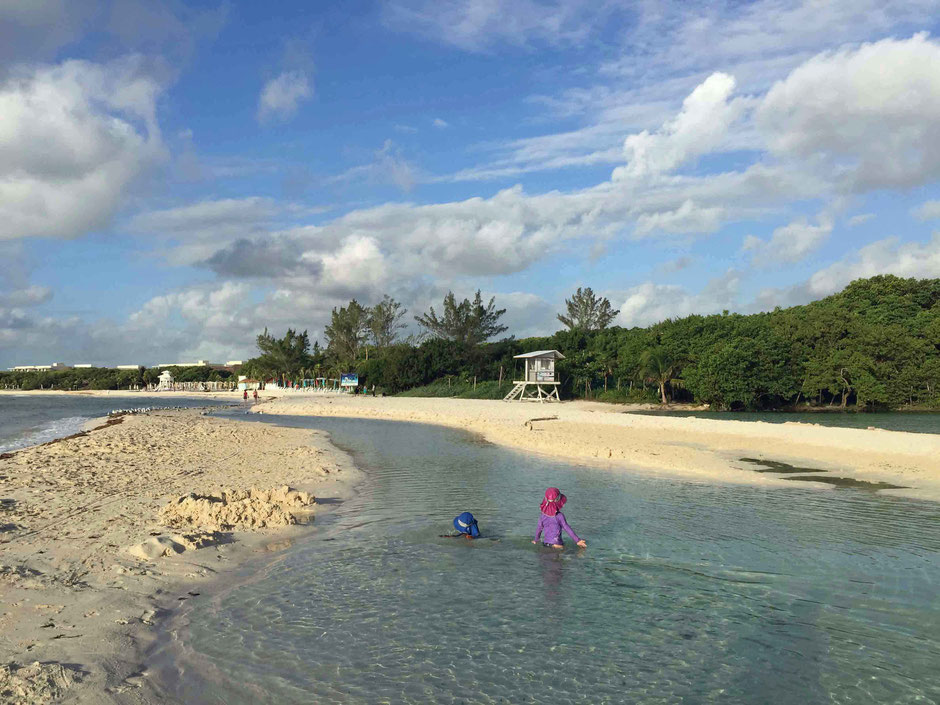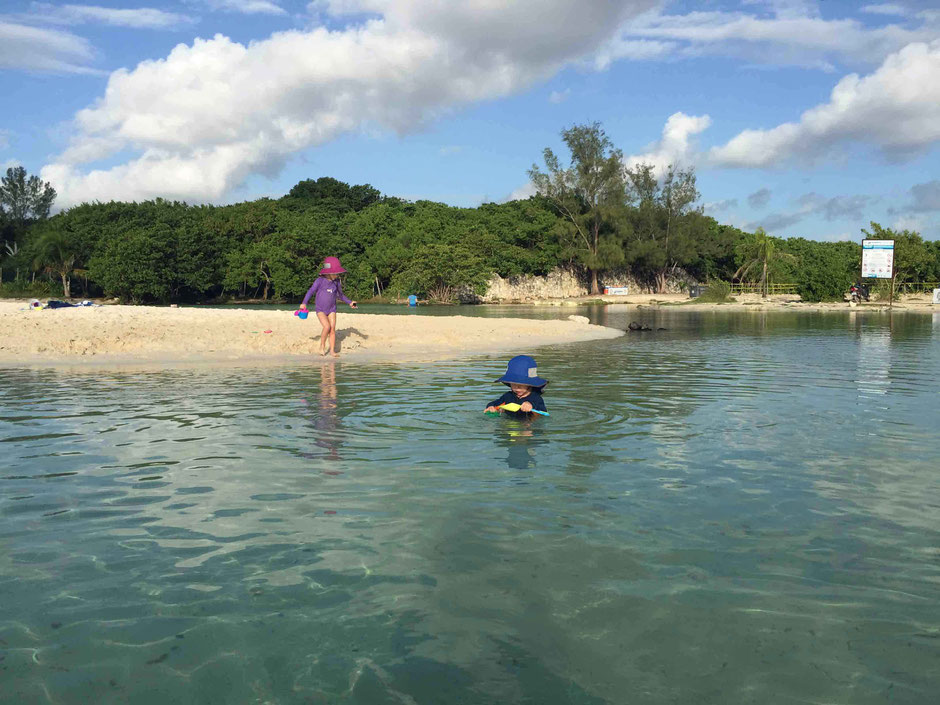 Getting there: Here is the location of the beach on Google Maps. Plug in your starting point to get directions. There is a paved access road, which must be reasonably new as it's not on the Map View on Google Maps. You can see it on the satellite view though - it runs from Calle Quinta Avenida to the NE side of the beach. There is plenty of free parking along the access road.
essential Gear for a day on the beach
For a safe and fun day at the beach with your baby, be sure to have these essentials...
Want to stay RIGHT on the beach?

Please note that some of the links on this page are affiliate links, and at no additional cost to you, we earn a commission if you make a purchase. If you are ready to make a purchase and would like to support this website in some way, using these links will help do exactly that. 
Please visit our Privacy Policy & Disclosure page for more information or simply email us to ask any questions you may have.

Need baby gear for your trip? We recommend our favorites in our Shop.
RELATED ARTICLES YOU MIGHT ENJOY:
Like this blog post? Pin it for later!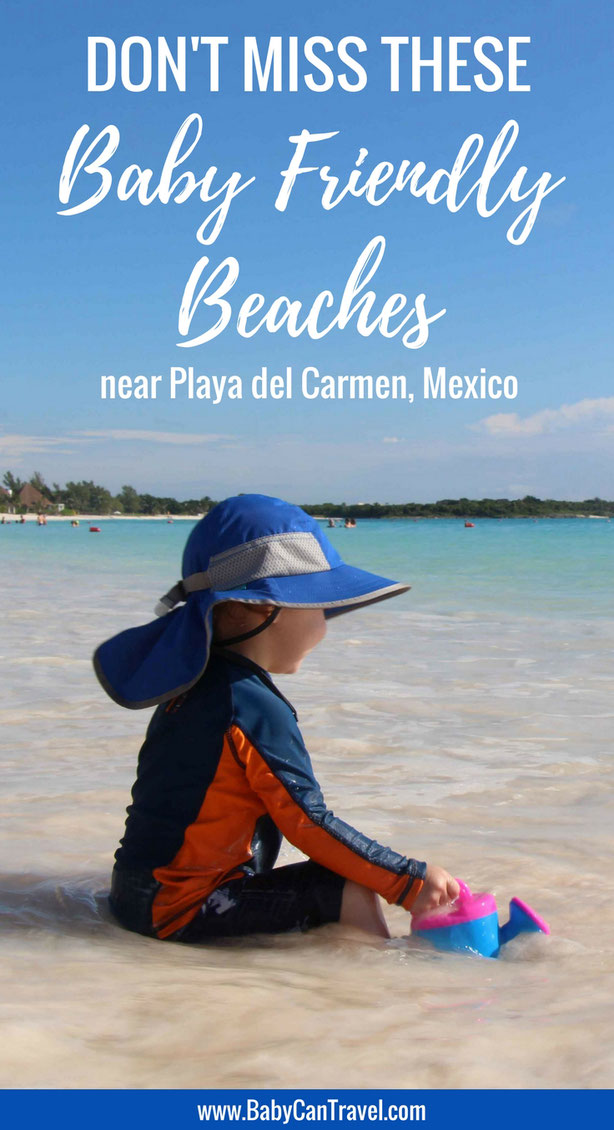 Have any questions about this post? Ask them here!